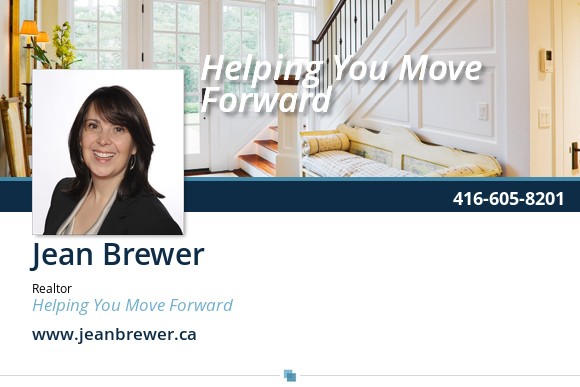 ,

Does it feel to you like we are almost back to "normal" in some ways?  It seems that more people are back on the roads at rush hour, so hopefully that's a good thing.  But I keep reading about the major stores that are seeking bankruptcy protection and so many people out of work, and I see small businesses that are shuttered for good as I drive our neighbourhoods.  The damage to our communities is not fully known yet, but on the positive side there are very low numbers of Coronavirus cases in Ontario.  I hope that you and your family and loved ones are still safe, healthy, and enjoying the outdoors.

So what happened in July in the real estate market?

In a nutshell, a lot!

So without further ado, here are some insights to show you that the July 2020 real estate market was a bit "hot"!

Condo sales were slower as people sought out anything with a backyard.  Sales and rentals both softened in activity and price levels.  Makes sense!
Cottage sales are taking off!  My colleagues up north are experiencing multiple offers on properties, very quick sales, and not nearly enough for sale to look after all the buyers.  They've never seen anything like it.
Multiple offers and offer presentation nights were back in some areas.  Not all areas, but enough to make it very challenging if you were trying to buy a home.
Prices went UP due to huge buyer demand and continuing historically low mortgage interest rates.
Oakville (data from the Oakville Milton & District Real Estate Board)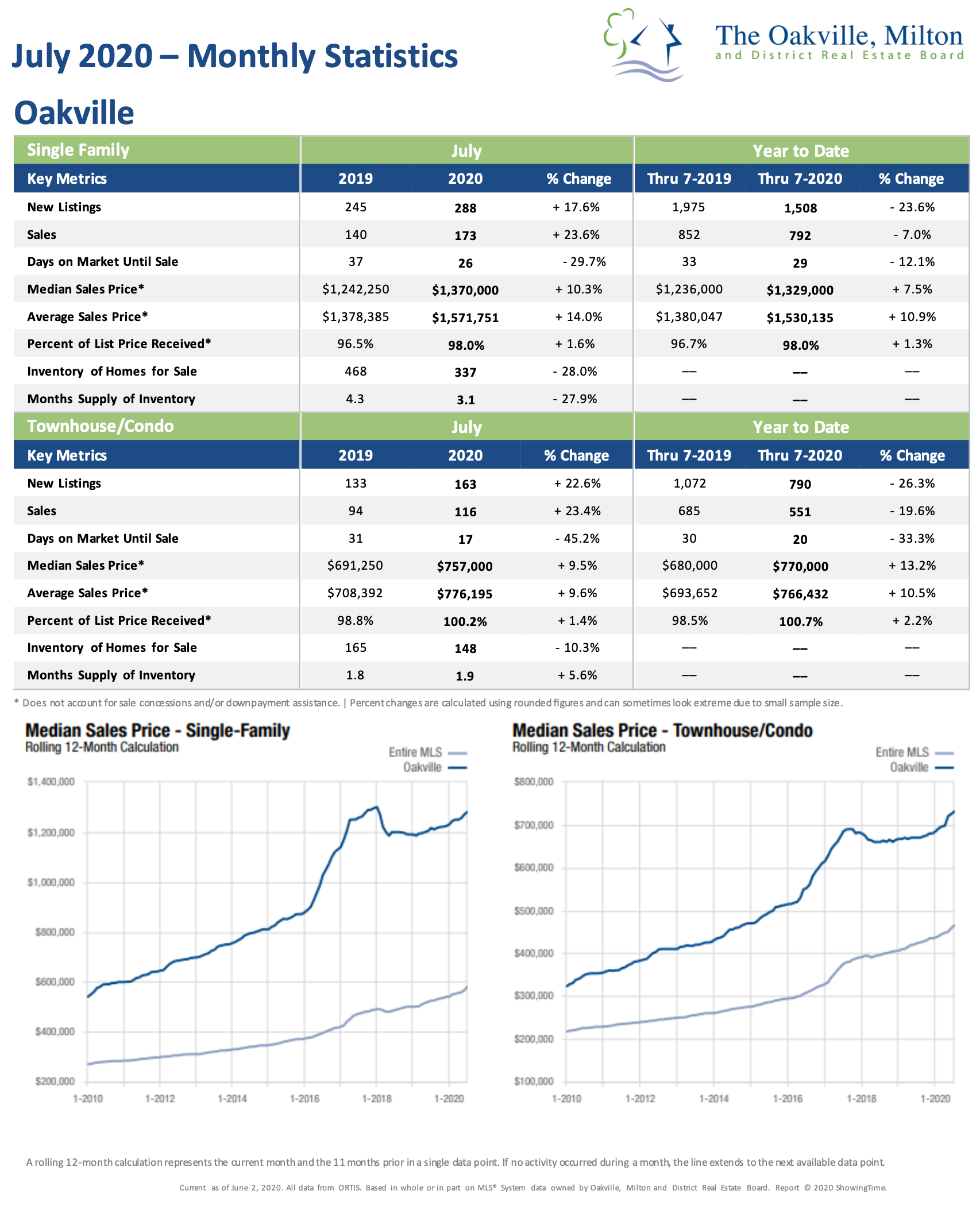 "It is apparent the demand for 'a place to call home' has been the driving force in Halton real estate during a time that typically shows a lull in activity. Ontario's move to Stage 3 has untethered the ability to hold in-person showings, which points to consumers being able to regain confidence in buying and selling real estate. In addition, REALTOR® safety protocols show that these things can be done safely and with care.", President Richard Weima said.
"Mortgage rates have not been this low in decades for Buyers, so it comes as no surprise that activity and home values have risen so strongly. Because of this, our governments really need to understand why housing has grown to be so out of reach for many consumer segments. All levels of government are driving costs up for housing with regulatory restrictions and the numerous taxes and fees associated. REALTORS® continue to urge greater attention paid to reduce red tape for increased building opportunities, as well as providing consumers with improved housing options to meet this challenge."
Burlington & Hamilton (data from the Realtors Association of Hamilton & Burlington)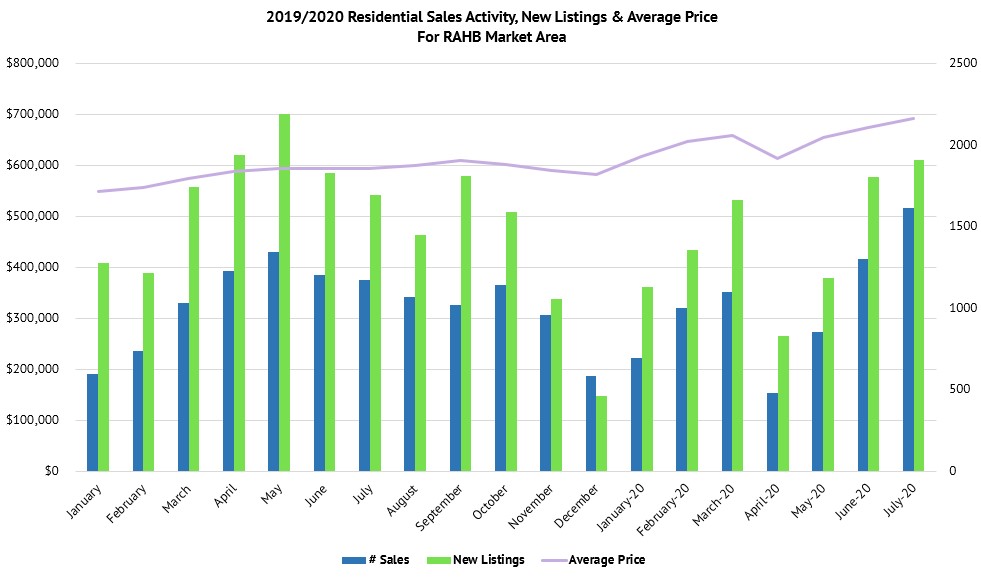 "As we can see from the data, activity has resumed to pre-COVID-19 levels, and is actually surpassing the levels we would typically see in the summer due to pent-up demand over the last several months," says RAHB President Kathy Della-Nebbia. "What is also affecting the market – and more specifically the increase in average price – is the low number of active listings. With less available, buyers have limited choice and the market favours sellers."
The number of sales for single family properties within the entire RAHB market decreased by 18.1 per cent compared to the same month last year, the number of new listings was down by 2.6 per cent over last year, and the average sale price increased by 20 per cent. Townhouse sales activity across the entire RAHB market area increased from July 2019 by 35.6 per cent, new listings were up 30.4 per cent, and the average townhouse sale price increased by 17.3 per cent to $583,351. Apartment-style property sales decreased by 74.1 per cent from July 2019, new listings increased by 76.8 per cent, and the average price increased by 11 per cent.
Brampton (data from the Toronto Regional Real Estate Board)
Brampton also saw a very active market last month, with average sale prices on the rise even with additional new listings available.  This meant multiple offers in some neighbourhoods and home types.  The average sale price was $861,763 (all property types including condos), which was a solid 5% growth over June's sales and a whopping 17% growth compared to July 2019.  Year to date sales growth is approximately 15% since January 1st, which is impressive given the drop in the number of sales through March and April of this year.
What do all these numbers mean for you?
If you are thinking of selling, this is a good time as buyers are anxious to 1) own something that has a backyard  2) purchase while mortgage rates are historically low (under 2% in some cases)  and 3) own for the long-term rather than rent.  We have CoVid protocols in place to help minimize risks and still facilitate showings through your home as much as is reasonable and possible.
If you are planning to buy property – maybe your first home, or a larger place with a dedicated home office – it may take a bit more work or time, but nothing is impossible with good planning and patience.  With interest rates so low, prices continuing to go up and baffle all sorts of "experts" during CoVid, and immigration staying strong, buying and holding a property will continue to be a good investment in the GTA.
The key to making a move is to jump when you are ready.  And I can help prepare you every step of the way and make the process smooth and fun.
To talk about your plans, dreams and needs, and to evaluate what your home or condo may be worth in this market, just reply to this email and let's get started.  I'm always very happy to answer any and all questions you have, no strings attached.

And now for something completely different…
Thank you to those of you that read everything this far into the email, here's a surprise summer treat!  Reply to this email and share with me something you are looking forward to in August or September, and I will send you a Starbucks e-giftcard for $5 for a cold drink of your choice during these sizzling summer days.
And while you're out & about, here are a couple of local restaurants that our family enjoy.  If you're looking for some place new to try, I'm sure they could use your support.
Brampton: Pho Dau Bo  ~ 20 Gillingham Drive (plaza at the corner at Bovaird, same parking lot as Rona)
Yummy Vietnamese & Asian food!  My favourite is the grilled chicken with vermicelli and a spring roll (it also comes with a nice crunchy salad right in the bowl).  My hubby goes for the XL bowl of house special beef pho with all the tripe and bits.  Our teens have loved going there since they were little and started out with the chicken pho.
Oakville / Burlington: Big Grill   ~ 1500 Upper Middle Rd West (at Third Line), Oakville in the Sobey's plaza
Shawarma!!  Of all the places we have frequented for shawarma over the years, this one is my 2nd favourite ever.  Our favourite was on Burnhamthorpe Rd in Mississauga but sadly it closed a few years ago.
Big Grill is family run, the chicken is deliciously marinated and tender, and hummus and tabbouleh is included at no extra charge.  The 2-wrap lunch special runs about $13.
Stay cool, stay healthy, and stay in touch!
Sincerely,
Connect with me on
If you do not wish to receive future emails, please click unsubscribe.
RE/MAX Aboutowne Realty Corp., Brokerage, 1235 North Service Rd West, Suite 100, Oakville, Ontario L6M 2W2 Canada
Trusted Email Powered by IXACT Contact®